You are here:
VTA 100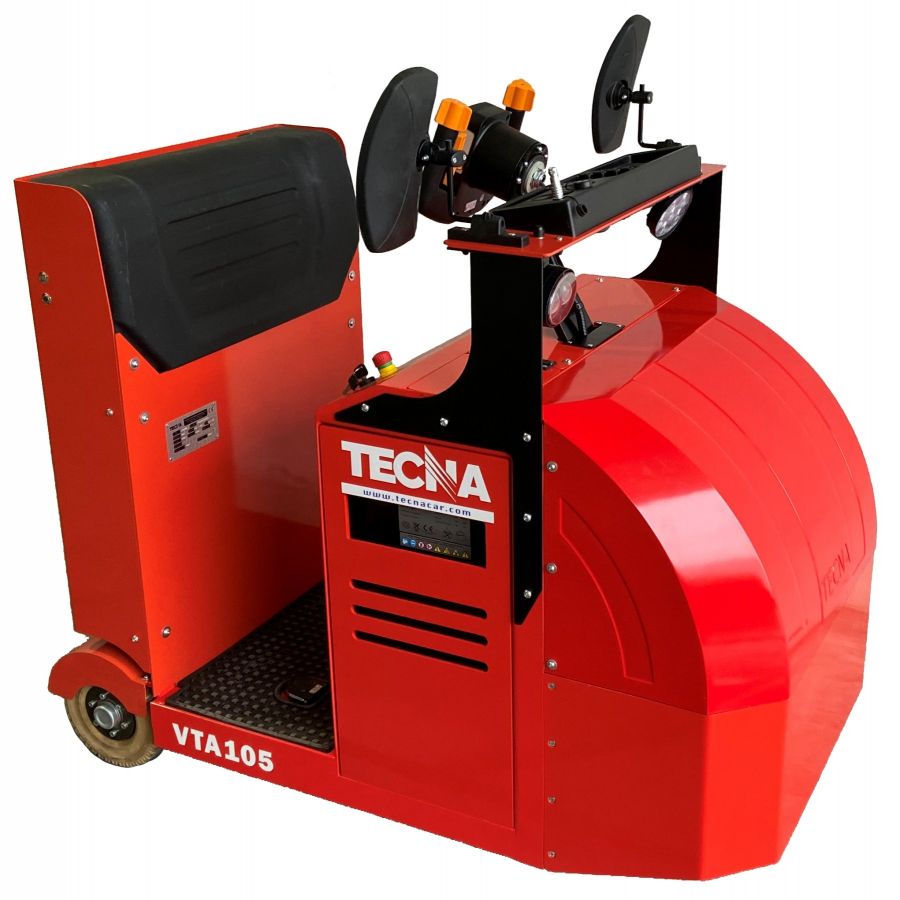 Powerful, versatile and economical tow tractor to pull trailers up to 5,000 kg.
The 6 Kw AC motor and the optimized Tecna performance system guarantee optimum efficiency in all conditions. With its 75-shor polyurethane tire, the VTA 103/105 provides optimum traction at all times.
Flux Vector Control
Latest technology programming. Intelligent adaptation to work needs, determining in each case the minimum battery consumption.
Display
The programming for the maintenance and the adjustment of the parameters can be done from the big screen, as well as through the Tecna service tool (TST).
Battery
Lateral removal of the battery in all models. Li-ion batteries available throughout the range.
High performance motors
The high power of the two traction motors, all asynchronous (maintenance free) guarantees an extremely high dynamic response in any situation.
Brakes
Braking system based on fully encapsulated oil-coated discs.
Comfort
The protective cabin is floating on hydraulic shock absorbers to transmit maximum comfort to the driver, eliminating vibrations and reducing the noise level.
More information about VTA 100 available on Tecnacar website.
Technical Data
| | |
| --- | --- |
| Models | VTA 103 / VTA 104 / VTA 105 |
| Capacities | From 3,000 kg to 5,000 kg |
| Nominal bar shooting | From 600 N to 1000 N |
| Wheelbase | 1,121 mm |
| Weight | 910 kg – 1,010 kg |
| Track width behind | 595 mm |
| Total height | 1,306 mm |
| Ground height | 200 mm |
| Total length | 1,436 mm |
| Total width | 800 mm |
| Turning radius | 1,460 mm |
| Travel speed with/without load | 8/13 km/h |
| Maximum shot at the bar | From 2,200 N to 3,800 N |
| Motor power | 2.5 kW (VTA103), 3 kW (VTA104), 6 kW (VTA105) |
| Batteries | 48V 210 Ah / 48V 230 Ah / 48V 250 Ah |